NK IMODE AW23 Collection Overview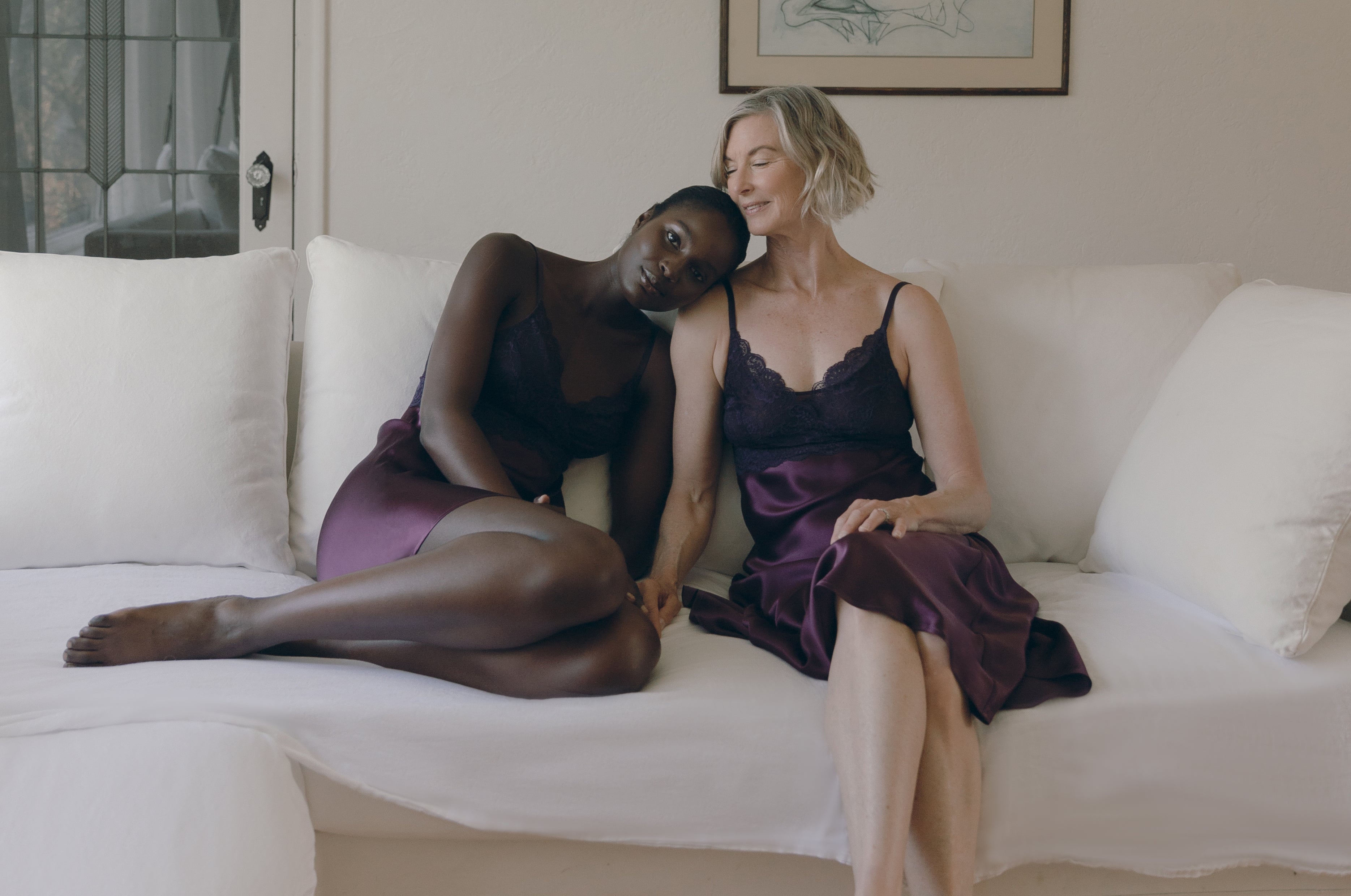 NK IMODE AW23 features an effortlessly moody-looking collection rich with attitude, sassiness and savoir-faire sparkling with luminous shades of jewel-tone silks ever so commanding quiet-luxury moments!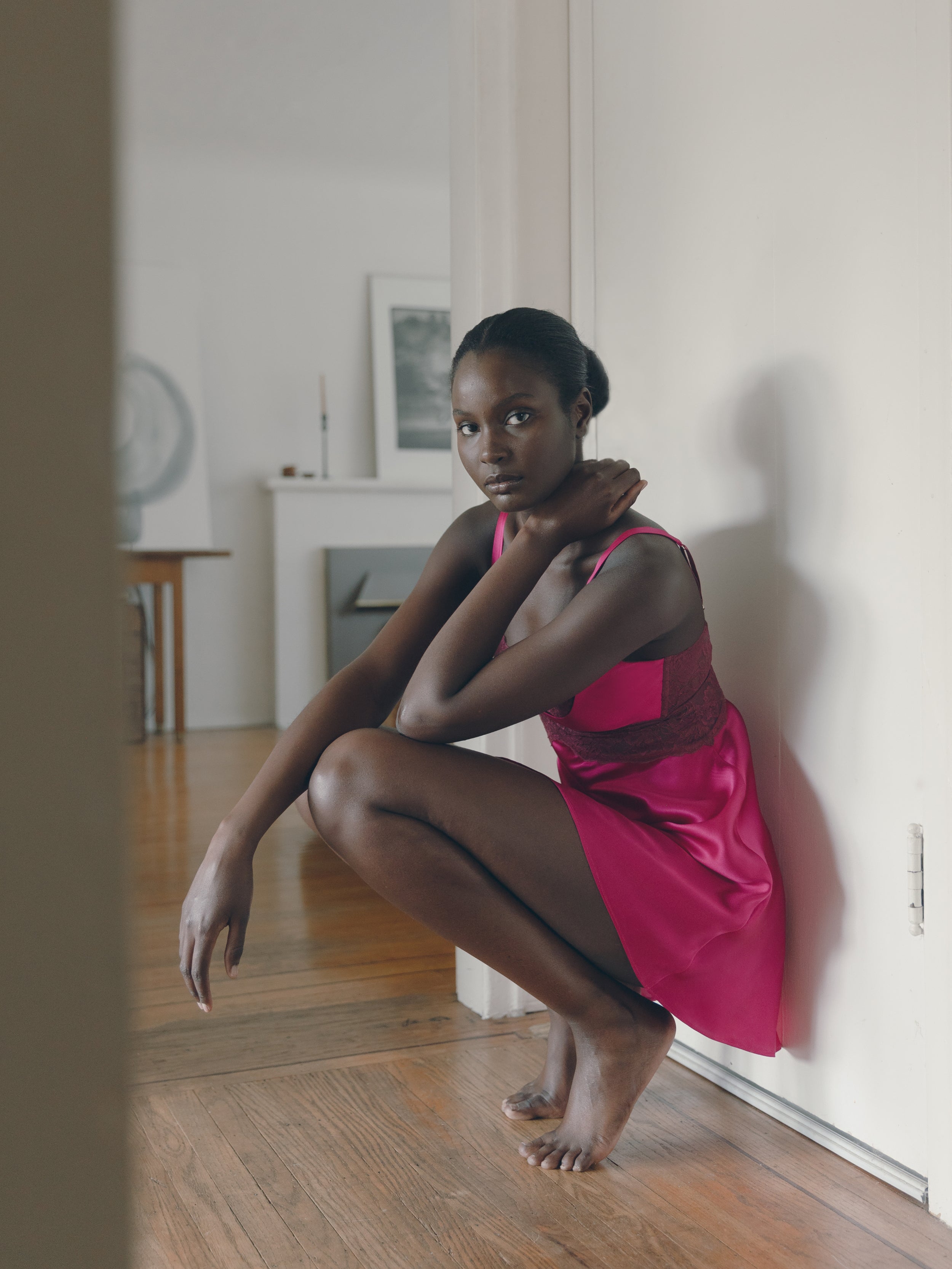 Morgan Cradle Bust Silk Chemise
Morgan • Remember Me
Each piece of the Morgan Collection is a testament to history in the making, crafted with meticulous attention to detail and adorned with sparkling jewel-tones.

Our silk charmeuse garments, trimmed in whimsical tonal shades of signature stretch-lace, exude enduring charm while embracing today's sensibilities. Whether it's the Pink Ruby silk charmeuse with luscious Merlot stretch-lace or the Blue Topaz silk charmeuse adorned with serene Laguna Blue stretch-lace, our collection captures the essence of sophistication. From iconic full bust-support chemises to lace-trimmed robes, our creations are both captivating and practical, making them the perfect companions to complete your look.
Sabrina • Magic Touch
Prepare to be captivated by Sabrina's haute lingerie collection, designed to leave you "green with envy" in the best way possible.

The centerpiece of this enchanting assortment is the enigmatic Black stretch-lace, juxtaposed with luxurious Emerald Green silk charmeuse. Our selection features a range of mesmerizing styles, including a bias-cut swing babydoll chemise with delicate silk straps and stretch-lace insets, a bust-support balconette chemise with a sassy scalloped lace hem, a short kimono for those last-minute touch-ups, and a statement long gown with a mirrored lace back inset. To complete the bewitching charm, indulge in our statement long robe with a sweeping skirt and minutely matched stretch-lace back yoke. Get ready to experience the magic touch.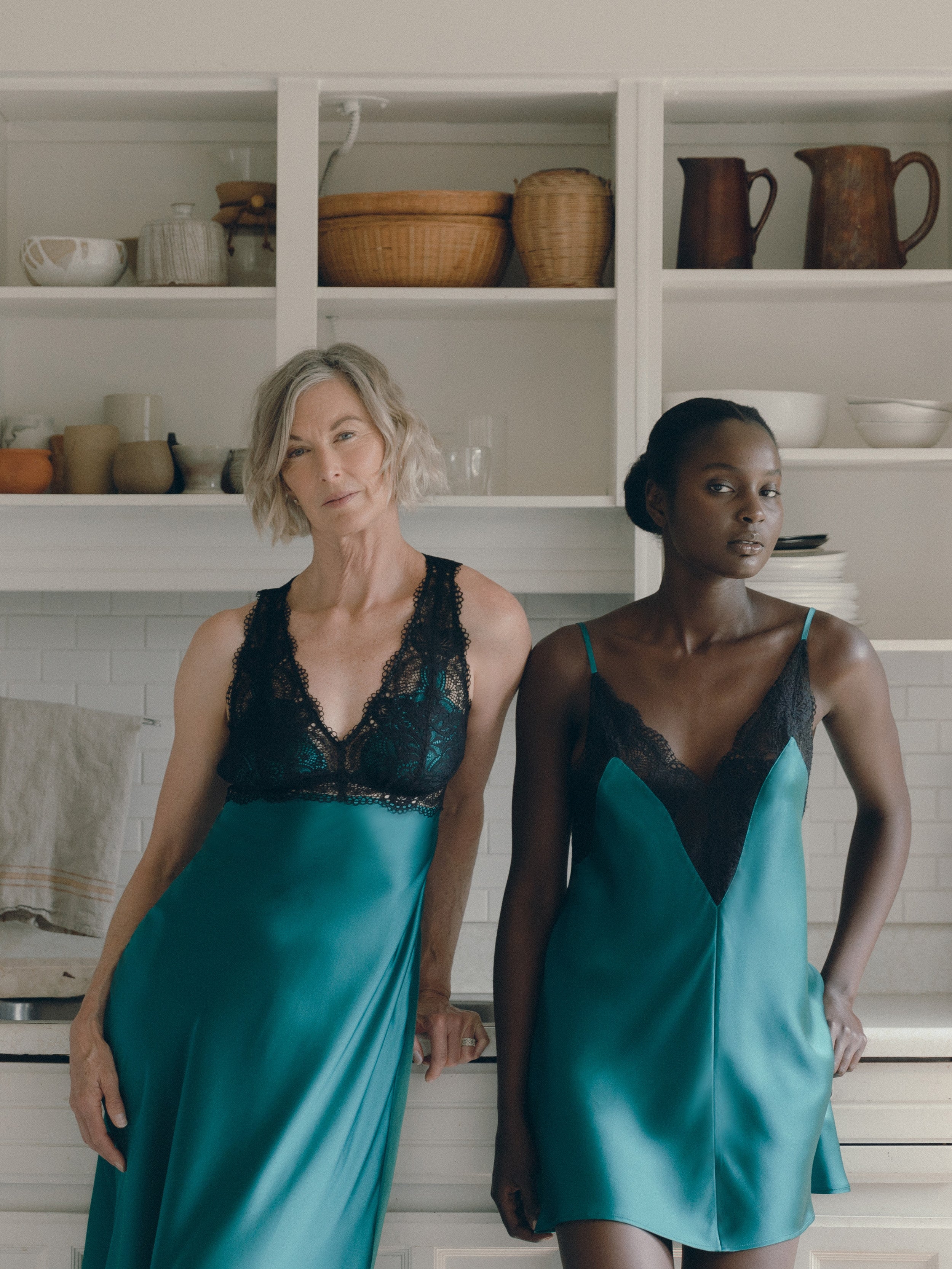 Sabrina Magic Bust-Support Statement Long Silk Gown/Babydoll Silk Chemise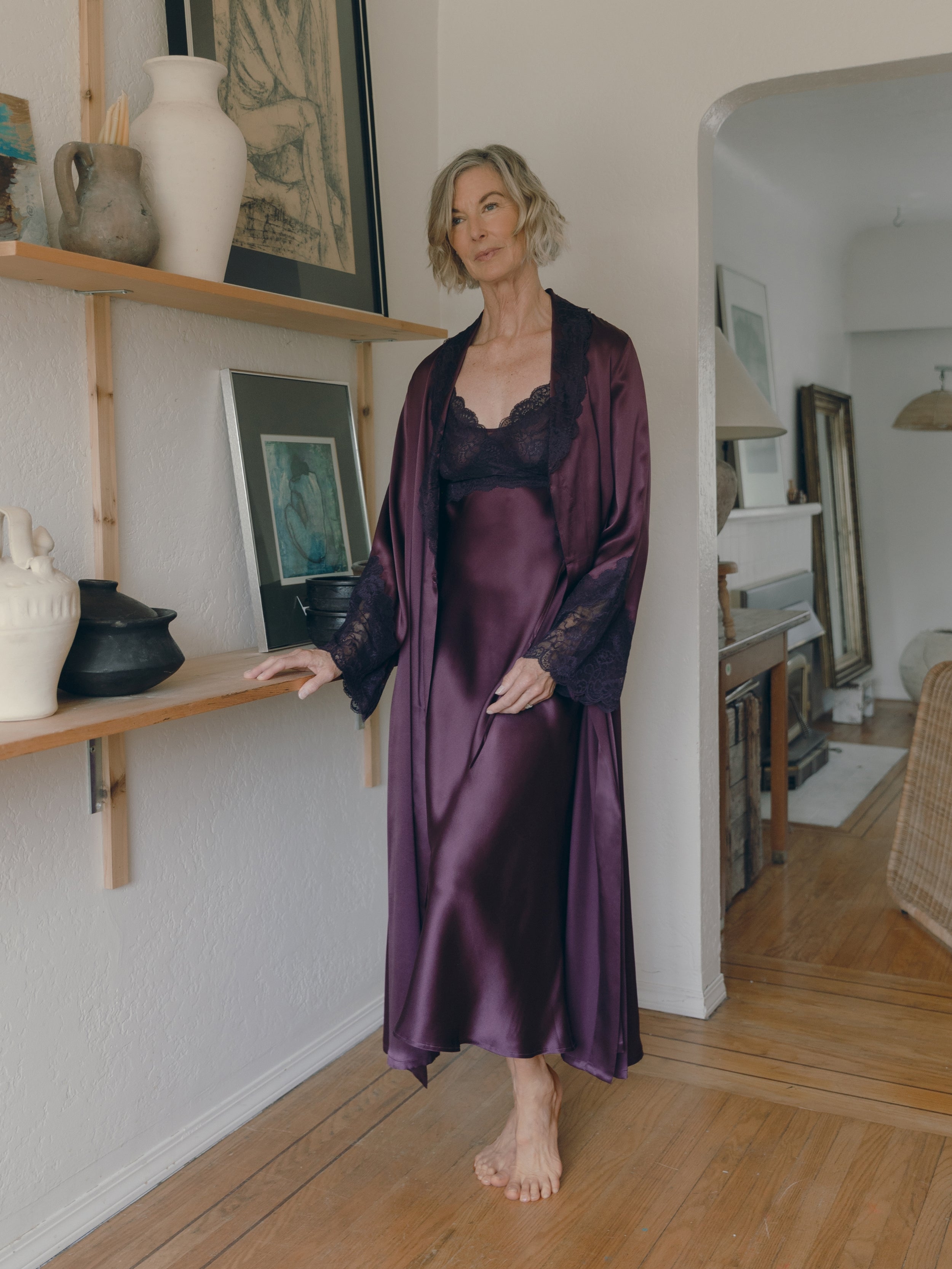 Arden Lush Bust-Support Cross-Over Long Silk Gown/ Arden Lush Shawl-Collar Long Silk Robe
Arden • Lush Life
Embrace the allure of a dreamer Lush Life with Arden's autumn collection, perfect for cozying up by the fire. The shimmering Aubergine silk charmeuse, trimmed with dusky Ink stretch-lace and lined with Aubergine mesh, creates a subtle two-tone effect that is both posh and inviting.

Our exciting new cross-over stretch-lace bust-support silhouette adds a touch of sophistication to the bias-cut chemise and long gown, complete with elasticized adjustable straps. Wrap yourself in luxury with our scalloped stretch-lace trimmed short or long robe, featuring a shawl collar and splendid bell sleeves. This lush collection is the epitome of indulgence.
Pamela •In My Dreams
Pamper yourself with Pamela's dreamy collection, designed to turn your ideal honeymoon "In My Dreams" into a breathtaking reality.

Crafted from effusive Ivory silk charmeuse and adorned with ethereal Ivory eyelash stretch-lace, each piece is a pure vision of vintage-inspired elegance. Experience the joy of playfulness with our swing babydoll chemise, featuring peek-a-boo front neckline and stretch-lace cut-out back insets. Our silk-lined bust-support insets chemise offers a graceful silhouette, while the flared short robe adds a touch of crafty charm with scalloped stretch-lace trim and bell-sleeves. For a truly unforgettable look, indulge in our one-of-a-kind bias-cut long gown, featuring silk-lined bust insets and an engineered stretch-lace opened back bodice. Finally, our vintage-inspired long robe with a stretch-lace empire-waist inset, delicately fastened with silk-covered bridal-buttons, is truly a dream come true. Experience the collection that embodies the essence of your picture-perfect nuptial experience.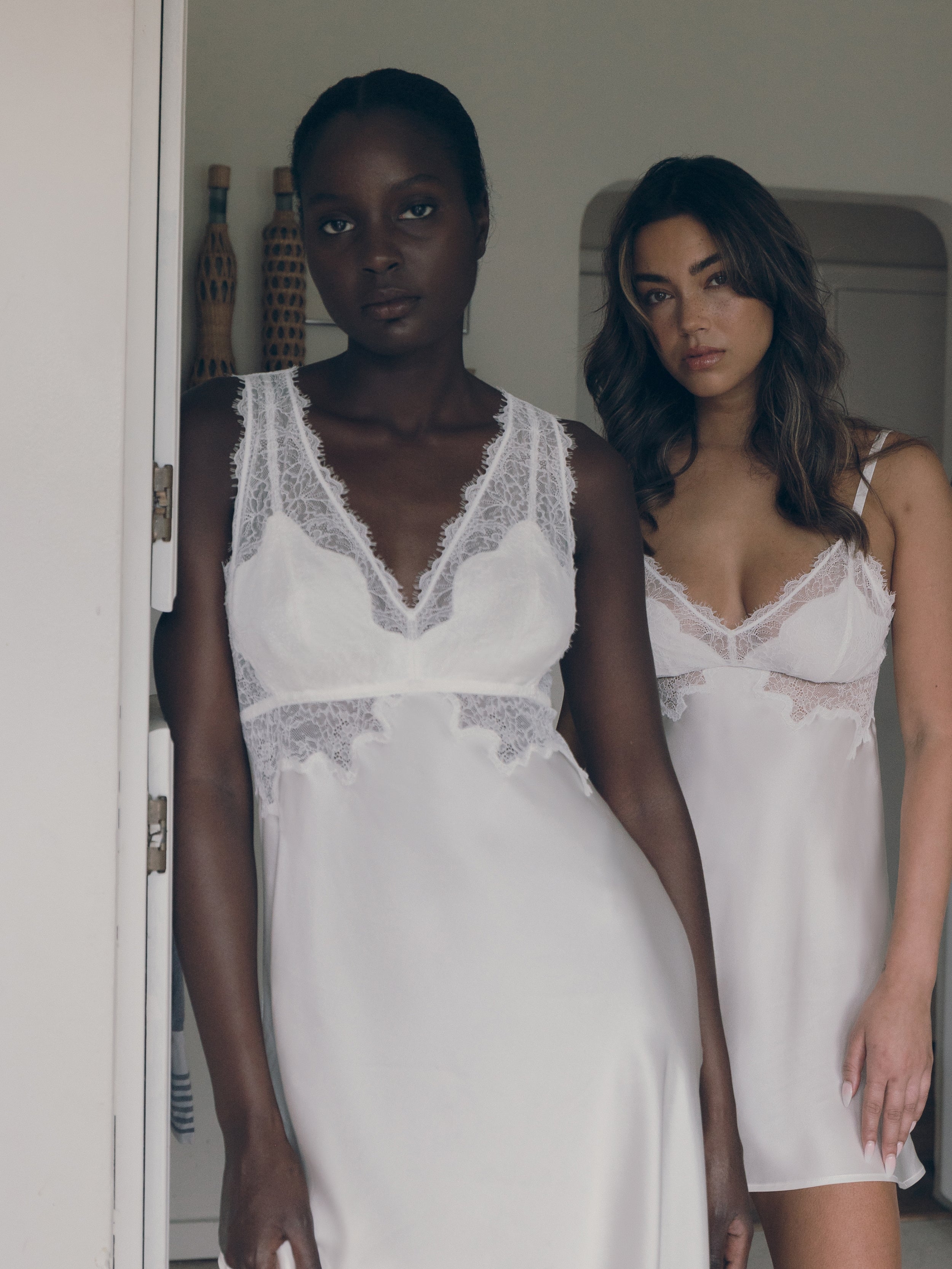 Pamela Dreamy Bust-Support Vintage Long Silk Gown and Silk Chemise